Here's a breakdown of need to know YouTube stats for creators both old and new.
Founded in 2005, YouTube is still young by internet giant standards but has achieved huge amounts already.
It's currently the second most popular website on the planet according to Amazon's Alexa. Part of YouTube's success is down to being the world's second largest search engine only behind Google.
Parent company Alphabet Inc sees YouTube as it's next driver of growth. Major investments of $6+ billion are set to continue year on year following a major redesign back in 2017.
This shows that YouTube is only just getting started. Below is a round-up of the key YouTube stats from authoritative and official sources.
They present the growing opportunities and key trends creators, both old and new, need to know.
YouTube Statistics Timeline
The following timeline illustrates YouTube's trajectory with new opportunities for creators continuing to grow.
Feb 1st 2005: YouTube founded by three former PayPal employees – Chad Hurley, Steve Chen and Jawed Karim
Feb 14th 2005: www.youtube.com domain registered.
Apr 23th 2005: The very first YouTube video uploaded on 23 April 2005
Oct 9th 2006: YouTube acquired by Google for $1.65 billion
Mar 2010: YouTube began live streaming major sporting events for free.
Dec 2011: YouTube launches a new version of the site interface to reflect news feeds of social media sites.
Feb 2015: YouTube releases a secondary mobile app known as YouTube Kids.
Aug 26th 2015: YouTube launches YouTube Gaming to compete with Amazon's Twitch.
Oct 2015: YouTube announces YouTube Premium offering ad-free access.
Oct 2015: YouTube releases YouTube Music for streaming and discovering music.
Aug 2017: Alphabet invests in major redesign of YouTube's user interface.
YouTube has evolved recent years with many new apps, services and interfaces rolled out since 2015. It's just getting started.
YouTube continues to expand it's global audience to reach every corner of the world.
YouTube Audience
2,000,000,000 – that's how many logged-in users YouTube has in a month. It's audience is also more diverse than you might think.
Age
Millennials were the early adopters but other generations are fast catching up.
6 out of 10 people prefer online video platforms to live TV.
In an average month, 8 out of 10 18-49 year-olds watch YouTube.
YouTube reaches more 18-49 year olds that any broadcast or network TV station.
18–34 year olds watch YouTube on mobile more than any US TV networks.
35+ and 55+ age groups are the fastest growing YouTube demographics.
YouTube reaches 95% of online adults 35+ (Gen X).
75% of Gen X uses YouTube to embrace nostalgia.
68% of Gen X use it to stay in the know.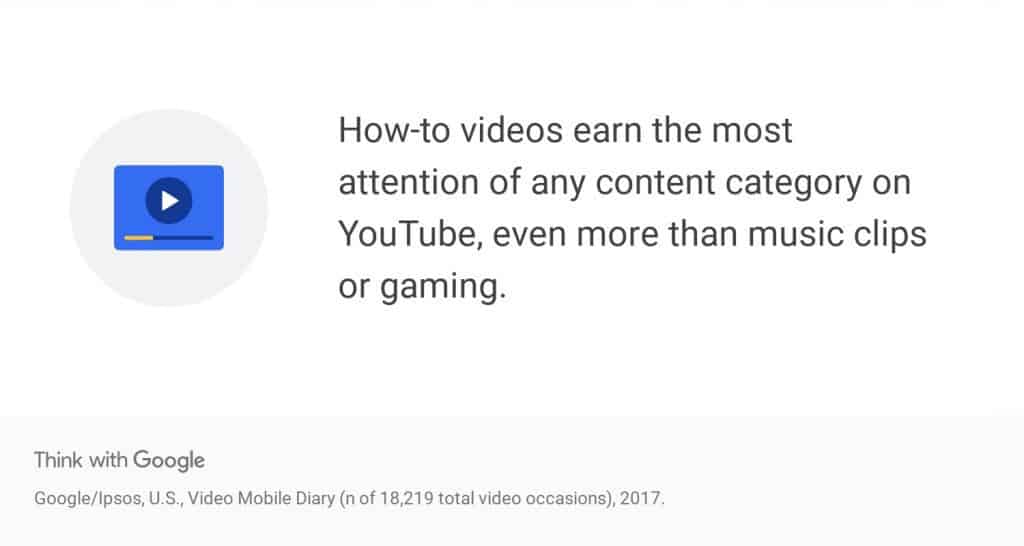 So it's clear millennials are not the only ones that love YouTube.
GenX and Baby Boomers (55+) are YouTube's fastest growing demographics.
Time spent by adults 35+ and 55+ is growing 40% and 80% fastest.
56% of Baby Boomers use YouTube more than any other social media platform.
Almost 80% of 18-34-year-olds and 71% of 35+ year-olds prefer individual uploads.
74% of 18-34-year-olds use YouTube to watch branded content.
YouTube's audience is broadening well beyond millennials. GenX and Baby Boomers are the fastest growing segments.
Gender
YouTube is no longer a male heavy platform either as the below stats show.
YouTube's male-to-female ratio is now 1:1.
This Google/Nielsen study shows female viewership winning overall.
Guys make up the majority of viewers in 90% of YouTube's content categories.
The most male-dominated categories are in gaming, sports and virtual worlds.
Female focused categories are make-up, cosmetics, skin care and weight loss.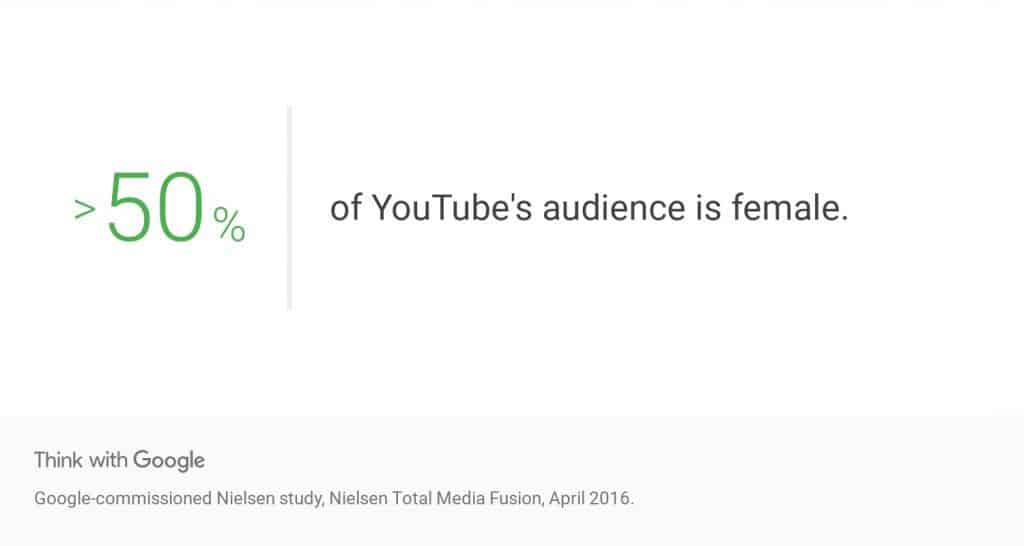 While YouTube's audience has an even male female split its global reach is diversified.
Global
Today there's almost no corner of the planet where you can't watch YouTube.
YouTube now boasts over 2 billion Monthly Average Users (MAUs).
Is available in 76 different languages over 88 countries.
The YouTube Go app is also set to expand to over 130 countries.
In India, 245 million monthly active users watch YouTube – more than in the US.
YouTube's biggest and fastest growing markets are outside the US.
YouTube Usage
YouTube's audience watch on screens all shapes and sizes as the below stats reveal.
Mobile
More than 70% of YouTube watch time comes from mobile devices.
Logged-in users spend more than one hour per day watching on mobile.
On average, there are 1,000,000,000 mobile video views per day.
YouTube viewers are dedicated to the platform especially on mobile.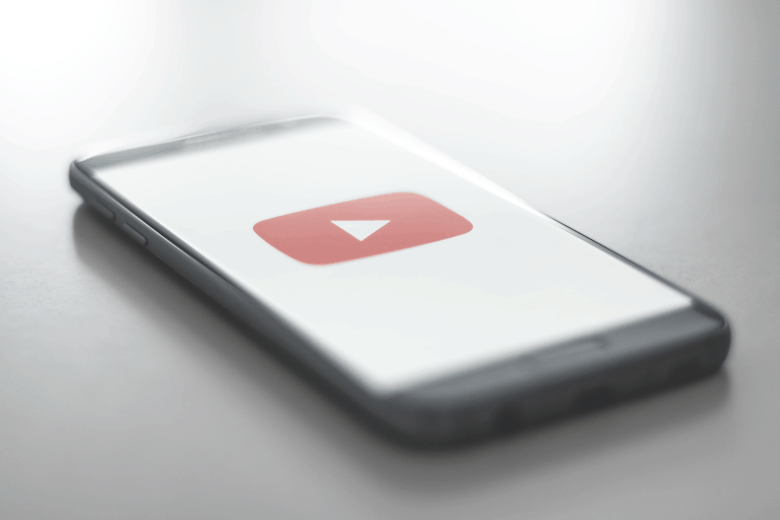 Some of the 70% of watch time is also shared with casting to TV via Chromecast.
TV
YouTube watch time on a TV set more than doubled between 2016-17.
7 in 10 YouTube TV viewers watch YouTube on TV screens during prime time.
Beaming YouTube into TV sets around the world is becoming more of a thing.
Watch Time
Studies by Nielsen/Google found that viewers 18+ more than doubled watch time.
The average mobile viewing session lasts more than 40 minutes.
Over 1 billion hours of YouTube videos are watched a day – more than Netflix and Facebook video combined.
In 2018, the 95% of the most watched videos were music videos.
The current most viewed video on YouTube is "Despacito" by Luis Fonsi and Daddy Yankee with over 4.7 BILLION views.
It reached 1 Billion views in less than 100 days.
YouTube viewers are dedicated to the platform like no other.
YouTube Opportunities
As viewing numbers grow so does the number of niches and content categories.
Growth Niches
More than 7/10 viewers visit YouTube for help with a problem relating to work, studies, or hobbies or even life's biggest responsibilities.
e.g. 86% of millennial dads turn to YouTube for guidance on parenting topics.
Searches of "how to" videos on YouTube are growing 70% year on year.
65% of people tune into YouTube 18-54 to fix something at home or car.
That's more than entertainment at 57% with that age demographic.
56% of viewers tune in to learn something new relating to hobbies.
These range from beauty tutorials, gaming tips and even survival videos.
e.g. 2018 saw an exponential 248% increase in views for bush-craft videos.
'How-to' and educational videos are categories with lower barriers of entry and costs.
Investing in Creators
With Google looking to YouTube to be it's main growth driver the company is investing in new resources all the time.
These include new learning resources and features in the creator dashboard
YouTube offers free studio space for channels with 10K+ subscribers in 10 cities globally.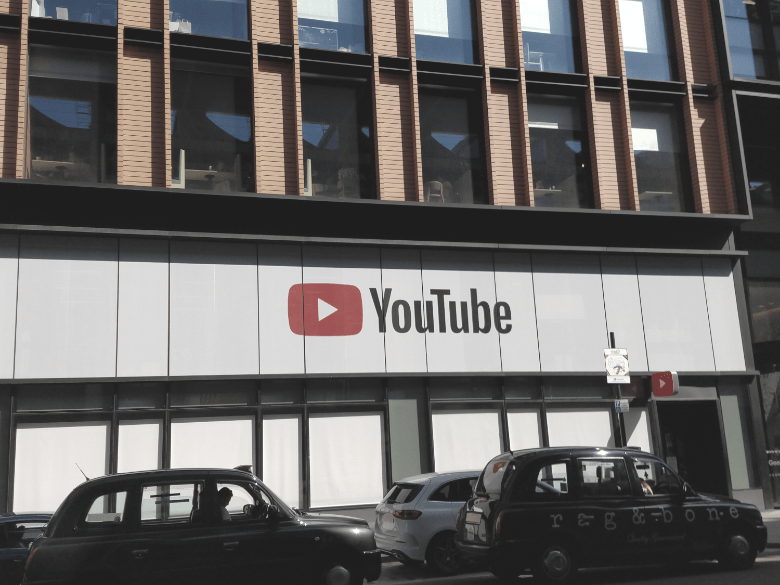 YouTube rolls out more training, tools and even studio space to for creators year on year.
YouTube Earnings
More and more YouTubers are getting a piece of the pie.
Top-earning YouTube star (based on income): Ryan ToysReview ($22 million)
Channels earning six figures a year on YouTube has increased by 50% year on year.
The number of channels with over one million subscribers grew more than 75% y/y.
The most popular videos are uploads by individuals rather than corporations.
Summary
These key YouTube stats show the continued growth, investment and opportunities on YouTube for creators both old and new. There's never been a better time to share your own experience, knowledge or a skill through online video.