This article is an outline of the seven key steps of how to make a YouTube channel.
Before starting keep in mind YouTube certified expert Derral Eves advice: the key to how to make a successful YouTube channel is not views or subscribers – it's your brand.
Derral Eves: Build a Brand Not A YouTube Channel
Keep that as your mantra and you'll be golden to well on the way to creating a great channel.
Step 1: Setting up a Google Account
To make a YouTube channel you'll need to create a Google Account – click link for easy to follow instructions.
A Google Account works across all Google products (e.g. Gmail, Blogger, Maps, YouTube and more).
You'll already have a Google Account if you've signed in to any of these products before.
If you don't have a Google Account, you can create one on YouTube.
Step 2: Create a New YouTube Channel
It's simple to get started on YouTube – follow this process to create a new channel:
Sign in to YouTube and create an account.
Go to YouTube's homepage and click the "Sign in" button top right-hand corner.
Click on the gear icon to get to your account's YouTube Settings.
There will be a prompt to create a new channel.
Check the details (Google Account name and photo) and confirm.
For a brand account for a business channel choose "Use a business or other name".
Add your Brand name and click 'create'.
It's a good idea to have a quick read through the YouTube terms of service so you know what you're signing up for.
Step 3: Brand your channel
Your channel brand is the set of unique characteristics that separates you from the rest. It communicates your aims, ideas and key messages.
Try to give your branding:
Clear message: so that viewers will understand what your videos are all about.
Remember less can be more: a memorable singular image or idea that sticks.
Something to be proud of it: see your channel branding becomes an extension of you.
Channel Art
Channel art shows as a banner at the top of your YouTube page.
You can use it to brand your channel's identity – to give your page a unique look and feel.
A lot of creators include their upload schedule within their channel art.
YouTube recommend banners are at least 2560 x 1440 pixels to display on all devices.
You can create this in your favourite photo-editing software.
Canva is a popular resource for making banners and with a range of templates.
Channel Icon
Your channel icon is your signature image or logo that represents your channel. It appears in many places such as:
on your YouTube channel page.
wherever you comment on YouTube.
in the bottom-right of videos in most playback modes.
It's best to upload a square or round image – here are the official design guidelines. A quick heads up – the icon can take a few moments to appear after uploading so don't be alarmed if you don't see it right away.
In this YouTube Creator Academy video, Camille from Offbeatlook walks through essential basic branding elements.
Step 4: YouTube Description and Recommended Channels
These elements are super important as can help viewers find your channel.
Channel Description
The channel description is found within the 'About' tab on your channel and provides viewers an overview of your channel.
It can include:
Description of the types of videos that you will produce.
Include your upload schedule.
Your biography or channel backstory.
Where possible and natural try to include search related keywords about your channel. Channels also show up in results as well as videos so worth giving it some thought.
You can also include links to your website, contact info and/or social media accounts. Your chosen links also appear in channel art banner so put most important link first.
Tips on how to write your channel description: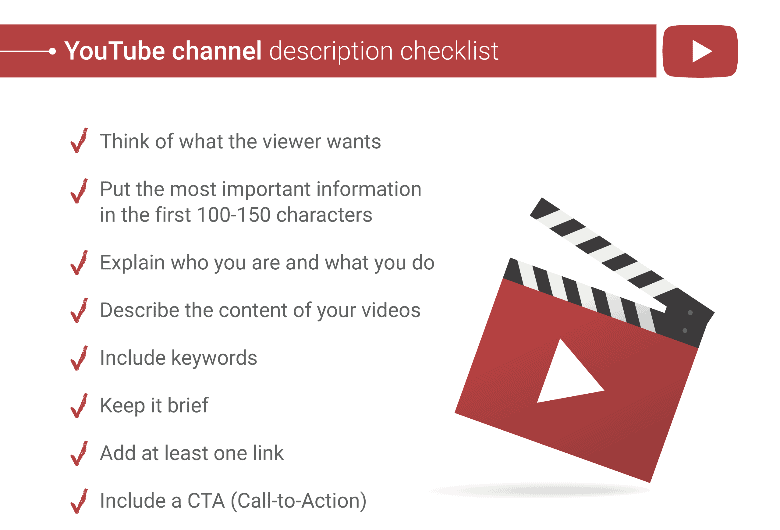 Recommended Channels
You can also select the option to list recommended channels from other creators. It's worth doing as can:
Help your channel appear on others channels on YouTube so it's free promotion.
Can help grow your subscriber base by appearing on other relevant channels.
Certified YouTube expert Nick Nimmin offers some insight on both topics here:
Step 5: Customising Channel Layout
You can customise the layout of your channel. This helps viewers see what you want them to when they get to your page. Follow these steps to begin customising the layout of your channel:
On a computer, sign in to YouTube.
Select your account icon 'My channel'.
Select Customise channel.
You may not have many or any videos to upload at this early stage. It's well worth thinking about how you want to present your channel to first time viewers.
You can create sections based on:
a common theme from videos
a single existing playlist (created by you or someone else)
a group of playlists or a group of channels.
You can have up to ten sections on one channel which can include:
Video sections.
Playlist sections.
Show and series sections.
Recent activities
Recent posts
Channels (other channels that you want to promote on your channel)
Another tip for beginners is to try to make 5 -10 videos before uploading any to your channel. This helps the channel become populated faster boosting the YouTube algorithms to rank your videos and channel. It also gives early viewers more to watch and chances subscribe to.
Here's a further more in-depth breakdown from YouTube help on channel sections. Keep in mind YouTube values organised channel sections with good navigation.
After you've enabled channel customisation, follow the instructions to create a channel trailer.
Step 6: Adding a Channel Trailer
Create a channel trailer to show to all unsubscribed visitors to the best of your channel. Like a film trailer preview what your channel is about so that viewers will want to subscribe.
Quick tips for creating channel trailers:
Assume the viewer has never heard of you.
Try to keep it short and under 90 seconds.
Hook your viewers in the first few seconds.
Show best moments rather than try to tell.
Ask viewers to subscribe in your video and with annotations.
Your trailer should have an end card as the video finishes with a subscribe call to action.
You can also create a separate trailer for 'returning subscribers' which YouTube can present. This can drive them to your website, product promotions or email list.
You can win the hearts of unsubscribed viewers with a captivating trailer. Try to upload a channel trailer as soon as you can. Remember to update it as your channel progresses.
This YouTube Creator Academy lesson offers best tips on how to create a channel trailer:
To customize your channel's layout with branded banners and channel trailers you first have to verify your channel.
Step 7: Channel Status and Verification
Verify by phone your channel to be eligible for additional features – click here to learn how.
These additional features are available to all creators who have verified accounts. You might have to go through a few more steps to unlock them all. The additional features include:
Monetization: once you meet the criteria you can apply to join the YouTube Partner Program.
Longer videos: once verified you can upload videos longer than the 15 minute limit.
Link to external sites: use cards and end screens in videos to link to approved merchandise and websites.
Custom thumbnails: get access and upload a custom thumbnail for your video.
Content ID appeals: appeal rejected Content ID disputes.
Unlisted and private videos: make your videos unlisted and share your private videos.
Live events: learn how to enable live streaming here.
Series playlists: group videos into series playlists to help viewers discover them.
To see what features you're currently eligible for, go to your account features page.
Summary
These are the key basic steps to follow on how to make a YouTube channel.
For more advanced setting check out YouTube certified expert Nick Nimmim channel where he offers the latest tips for 2019:
For further tips give these free official YouTube resources a whirl: